Alligator Meat Processing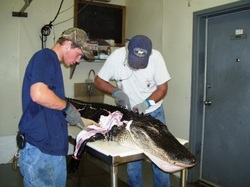 SKIN or CAPE: $15 per foot
MEAT: $4.25 per lb.
New!!
Alligator link sausage $5.75 lb.
Contact us
with questions!
Alligator Frying Bites and Sausage in Family Sized Packs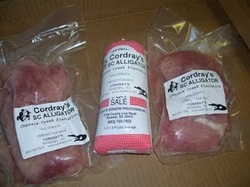 We trim all fat to ensure tasty gator morsels! Frying bites are cubed for tenderness. Cordray Brothers sausage is in 1.3 lb. packages or made into tasty links. Each package custom labeled with your name and tag number. Everything is vacuum packed and frozen.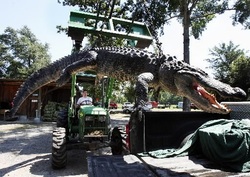 All alligators MUST have proper paperwork and tags attached.
All alligator caping & skinning fees are due when you leave the animal. To process your meat, we must skin your alligator.
Special Sunday Morning alligator check in times (Public Season):
9 am to NOON (Sept. 15, 22, 29, and Oct. 6)
Regular hours (8/15 to 1/1): Mon.-Sat. 9am-10 pm,
Sun. evenings 6pm-10pm
(Closing 9 pm after Nov. 3)